My typical morning starts with making different dishes for my kids. I won't deny it; I love to do that. To make them happy I always try to give them a head start with delicious dishes.
I never compromise with hygiene and that' why I prefer homemade food. Not to mention, I will have full control of ingredients as an added advantage.
Ingredients I Want to Use
As I am making a tasty sausage recipe, first of all, I need sausage. Luckily, I have two tins of pork sausage in my home which I bought yesterday from the super shop. Now, I need onion and garlic.
I have chopped the onion finely and have minced 2 cloves of garlic. Other ingredients I need are ground black pepper, red bell pepper, yellow bell pepper, carrot, and parsley.
At this point, I have finely chopped all of the bell peppers and carrots. It is important to chop them carefully. I don't want to face any awkward situations in front of my kids.
Other ingredients I will need include olive oil, tomato sauce, and lemon. As my kids love spice, I never forget to take red chili flakes into the kitchen.
Read next our best meat grinder reviews and buying guide
Here is the full list of ingredients I am using in this recipe–
2 cans of sausage
2 tbsp. olive oil
1 small onion (finely chopped)
2 cloves garlic (properly minced)
1 tsp ground black pepper
¼ cup red bell pepper finely chopped
¼ cup yellow bell pepper finely chopped
¼ cup carrot finely chopped
Salt as per taste
1/2 tsp red chili flakes
3 tbsp. Tomato sauce
½ tsp lemon zest for flavor
Parsley
The Delicious Homemade Breakfast Sausage Recipe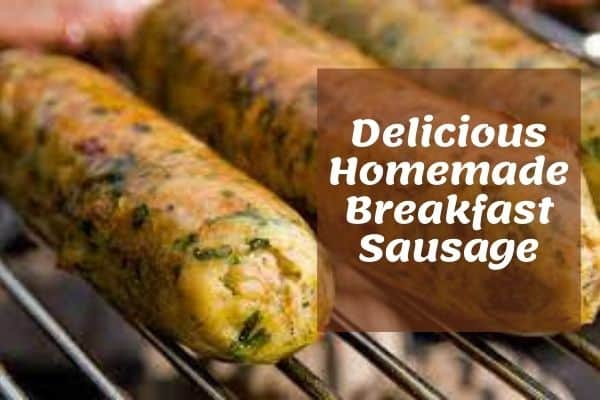 Now that I have all the ingredients ready in my kitchen, I believe finally, it's cooking time. First of all, I have taken a pan. I like to pick the nonstick one. Otherwise, it may harm the quality of my dish.
Now let's add 2 tbsp. (tablespoon) olive oil to my pan which is well set on my stove. Keeping the heat medium, I need to observe whether the oil becomes hot or not.
When the oil is heating, I need to add those chopped onions to the oil first and then add minced garlic when the onion becomes transparent. I want to stir them well. Both the onion and garlic are going to be brown soon. At this stage, I will add ¼ cup of chopped red and yellow bell pepper respectively.
It's time to add chopped carrot and I need to fry all ingredients properly. When the vegetables are properly fried, I want to add all spices one by one.
1 and ½ tsp (teaspoon) ground black pepper and 1/2 tsp red chili flakes, that's what I have added to the pan right now. I have also added salt as per taste. You know well, salt should be added at its optimum quantity.
It should be fried for the next two minutes. Now, it's time to add the main ingredient to this dish. I need to add the sausages along with 3 tbsp. tomato sauce now. After mixing everything well, I need to cook the mixture for 6 to 7 minutes more.
It's time to uncover the pan. What a nice flavor! Trust me, I can smell it. I know, kids will enjoy this a lot. Let's add ½ tsp lemon zest and parsley to increase the flavor.
Wow, it looks mouthwatering!                            
Let's Finish It!
Well, every mom wants to make yummy recipes for their kids. But when it comes to food, you should take the hygiene factors seriously. To keep your child healthy, you should opt for homemade foods that are both hygienic and nutrient-filled.
The homemade sausage recipe is delicious. Kids always love this kind of dish for breakfast. It does not take much time to prepare as well. I wish you all a happy and healthy life with your family.