Many pet owners decided that it's better if they're the ones to prepare the food of their four-legged best friends.  They realized that it's not only safe, but also healthy, and more economical to feed their pets raw food diet using a meat grinder. 
So we decided to talk about the Best Meat Grinders For Bones. And to balance their pet's diet, they need to put bones into the mix to ensure that their pets get the calcium and phosphorus needed for their bone and teeth development.
And that's the reason why we have come up with the list of The Best Meat Grinders For Bones.  
Best Bone Grinders:
1. STX Turboforce Classic 3000 Series 
Do you want to ground meat at two to three times the amount that the average meat grinder could?  Who wouldn't, right?  That would save you precious time, time to do other important stuff.
In that case, the STX Turboforce Classic 3000 Series is the right meat grinder for you.  The size #12 Polished Aluminum Grinding Head is bigger than most meat grinders which come with size#5 or size#8.  This allows the STX Turboforce to handle a bigger amount of meat to be grounded. STX Turboforce Classic 3000 is the best home meat grinder for chicken bones.
The turbo force meat auger comes with an advanced variable intake technology allowing you to grind larger portions of meat which only means easier and faster work for you. 
This powerful machine that has a Locked Motor Wattage of 3000 watts can grind between 180 and 240 lbs. of meat per hour.  It normally uses between 800 & 1200 watts "under load" while grinding.
It comes equipped with three hardened steel grinding plates and one specialty plate:  a wagon wheel design for a coarse grind; a quarter-inch plate for a medium grind; and a 5/32 plate for a finer grind.   It also has a specialty beaner plate for sausage stuffing.  So whatever type of ground meat that you need, these plates will give it to you.
The Turboforce also comes with a polished aluminum meat tray, a front locking knob, and three stainless steel cutting blades.   These blades will allow you to grind better when matched with the grinding plates.
Worth noting is that some people make the simple mistake when assembling the Turboforce of attaching the cutting blades to the auger incorrectly.  The correct way is to attach it to the auger with the flat end of the blades facing out. 
The STX Turboforce Classic 3000 is powerful meat grinding machine that will grind all kinds of meat that you put inside it.  It's advisable to have your meat chilled or partially frozen to allow for a faster and easier grind. 
It also allows for a faster clean-up.  While it's great for grinding meat, it's not recommended to use it in grinding fruits, vegetables, nuts, and tendons. It can be said that this is one of the best meat grinders for bones.
All the movable and detachable parts are very easy to clean.  It is not recommended to use a dishwasher in cleaning it. It comes with a 3-year warranty which is more than the average. 
Pros
Solid built machine
Nice Polished aluminum grinder body
Powerful motor takes care of grinding all kinds of meat
Size#12 Polished grinding head and auger grinds more meat and fast
Various hardened steel grinding plates and blades
Cons
Not as versatile as some meat grinders in grinding fruits, vegetables, nuts, and others
Don't forget to check our Cuisinart Electric Meat Grinder Review
2. Aobosi Electric Meat Grinder (2000W Max) Heavy Duty Stainless Steel 
While the STX Turboforce is designed to make minced meat of beef, pork, deer, chicken, turkey, etc., it's not suited for plants and fruits.  That's where our next best meat grinder on the list excels. 
The Aobosi Electric Meat Grinder is a versatile kitchen equipment that can quickly and safely grind various foods, such as meat, vegetables, fruits, and garlic. 
This is a small yet powerful machine that can reach from 800 up to 2000 maximum wattage. This is the best meat grinder for small bones.
It can grind 2 lbs. of meat per minute with its big capacity and detachable tray.  The three spiral circles of the powerful auger attachment ensure that the meat will be squeezed out without destroying its meat fibers, keeping it cool and locking in the texture and flavor of the meat. 
It comes with all these various accessories:
3 stainless steel cutting plates
3 different sausage tubes
1 cutting blade
1 kibbe attachment
1 food pusher
1 food tray
This meat grinder is very easy to assemble with all parts that can easily be attached to the main body.  With a simple On/Off button and a Reverse button in case of the meat being stuck in the auger. 
This will make the auger rotate in reverse or opposite direction allowing for the stuck up to be fixed.   It's also equipped with a circuit breaker to prevent motor burn-out. 
Like the STX Turboforce, it's not advisable to wash the Aobosi Electric Meat Grinder in the dishwasher.  This product comes with a 12-month replacement warranty and lifetime service support. 
Pros
Highly-versatile meat grinder for meat, fruits, vegetables, and more
Medium-sized yet powerful with up to 2000 watts of power
Reverse button for a quick fix when meat is stuck in the auger
Fast and efficient in grinding meat
Circuit-breaker to prevent motor burn-out
Lots of accessories included
Lifetime service support
Cons
Needs rest period and not advisable to operate continuously for more than 10 minutes to avoid overheating
3. LEM Products 1158 Mighty Bite Electric Meat Grinder
Lem Products is a company based in West Chester, Ohio that started as a producer of high-quality meat processing equipment to do-it-yourself hunters for almost 20 years. 
Now the company has produced various kitchen tools and equipment and they have established their name in the meat-grinding market. Lem 1158 Mighty Bite is the best meat and bone grinder for hunters.
The LEM Products 1158 Mighty Bite Electric Meat Grinder is a little brother to the Big Bite Electric Grinder.  But don't let its smaller size fool you.  This is a powerful meat grinder. 
Our team of experts in meat grinders noted that this machine has enough power for grinding game meat, such as deer or venison. This 1000 Watt peak power meat grinder is enough to grind anything. Customers have been impressed with this meat grinder's power for its size.
Its 120 Volt motor is permanently lubricated for a more efficient operation.
The meat grinder comes with an oversized hole in the feed tube of the #8 grinding head.  This allows for larger pieces of meat to be fed to the stainless steel auger.  It comes with 3 stainless steel plates and 3 plastic stuffing tubes for sausage making.
The meat pan can hold up to 3 lbs. of meat.  It has an aluminum motor housing, metal gears, and a heavy-duty handle for easy moving. This is the best meat grinder for grinding bones.  It has a built-in circuit breaker for safety and a reverse button that allows jammed meat to be easily ground. 
This machine will make quick work of wild or tame meat like a boss.  It's easy to assemble and easy to clean.  It's a bit on the pricey side considering its size and maximum power, but if you're into hunting and would like to grind your game meat with no problem, this could be the best choice for you.

Pros
Small but powerful meat grinder
Can grind tough meat such as deer and meat of other game animals
Permanently lubricated motor for more efficient operation
An oversized hole in the feed tube allows for larger meat to be grinded
Reverse grinding feature
Well-built
Cons
A bit pricey compared to other of the same size and power
4. ALTRA Electric Food Meat Grinder
If you want a very powerful meat grinder, the ALTRA Electric Food Meat Grinder is for you.  Its powerful all-copper engine maxes out at 2000 Watts, with anti-overheat protection. ALTRA meat grinder is the best meat grinder for turkey bones.
Its sleek and elegant design is perfect for most kitchens, with a black and aluminum finish and 3 different cutting plates to produce coarse, medium, and fine grinds.
This is perfect for burger patties, meatballs, sausages, and much more, able to produce 2 lbs. of ground meat every minute.
It's a highly-durable meat grinder which is surprising considering it is one of the least expensive on our list. This is the best meat grinder for chicken bones. The accessories and components of the ALTRA are easy to assemble, disassemble, and clean.
It has a reverse grinding function which is convenient to take care of the jammed meat inside the equipment. There is a built-in storage box that can be used to store all the accessories that prevent them to be lost.
The unique spiral tech design of the auger helps in maintaining the meat structure when grinding.  Here are the included accessories that come with the unit: 
3 x Sizes Grinding Plates
2 x Cutting Blades
2 x Kibbe Attachments
1 x Sausage Tube
1 x Food Pusher
1 x Accessory box
1 x Complete Usage Instruction
Pros
The all-copper engine reaches up to 2000 Watts
Highly-durable product
Least expensive meat grinders on our list
Easy to assemble and disassemble
Unique spiral tech design maintains the meat structure
Cons
5. Sunmile SM-G50 Heavy-Duty Electric Meat Grinder and Sausage Stuffer 1000W
Last but certainly not least, the Sunmile SM-G50 Heavy-Duty Electric Meat Grinder is a powerful and versatile kitchen helper. So we pick this one for our meat grinder for bone reviews.
It can grind up to 200 pounds of meat per hour, with maximum locked power at 1000 Watts. And with a built-in circuit breaker, you are assured that it will protect the motor engine.  The powerful motor is also made of all red copper material.
The body is made of stainless steel and the size#8 grinder head is made of polished cast aluminum.  The big capacity tray allows you to place more meat for grinding. This is the best meat grinder for hunters.
The only drawback is the hole that accommodates the meat toward the auger.  You will need to chop the meat into cubes or small pieces to accommodate it.  As soon as it fits, the grinder will do its job and make quick minced meat out of it.
For the grinder plates, you can choose from coarse, medium, or fine grounded meat which can be adjusted for burgers, sausages, meatloaves, and many more.
It has a tendency not to grind well for meat that contains more fat/tendon.  You may have to find yourself pushing the reverse button to take out the fat portion off of the grinding plate. 
For occasional sausage making and meat grinding, this should be able to do the job.  But if you intend to use a meat grinder more often than usual, this may not be the ideal one for you.
Other users that made their review of this product attest to its versatility, as well as the durability of the Sunmile SM-G50.   With an On/Off and reserve and reset, it makes it easy to start and reset the machine.   It comes with a 1-year warranty and 24-hour customer support for all concerns regarding the product.
Pros
Powerful meat grinder with up to 1000 Watts
Highly-durable product
Least expensive meat grinder on our list
Easy to assemble and disassemble
It can grind up to 200 lbs. of meat per hour
Cons
A small hole on the tray does not allow bigger chunks of meat so you need to cut it into smaller pieces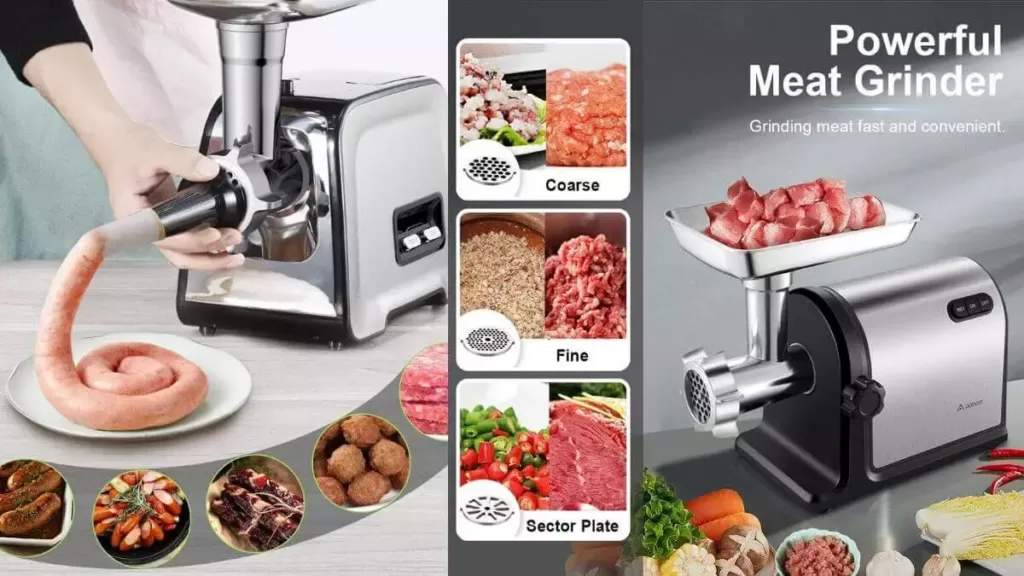 Why can't Normal Meat Grinders grind bones?
Normal meat grinders cannot grind bones. They are incapable of producing enough torque to crush or grind them.  The grinding capacity is a good measure if the meat grinder can grind bones. 
It's important to note that when we talk of bones, we refer to the soft and small bones of chicken, turkey, rabbit, or even small deer. 
But most meat grinders that are for home and even commercial use are not designed to grind big and denser bones like those found in cows, pigs, and the like. 
This is usually for industrial meat grinders which are found in meat processing plants.
What To Consider When Choosing The Meat Grinders For Bones
Grinding Capacity
It is essential to go with a unit having the best grinding capacity. The higher the power capacity of the motor is also a good indication if it can grind bones or not.  It refers to the number of meats processed by the grinder per hour.
While some of the models can handle 300lbs. in an hour, some of them can handle around 160lbs. So, it is very essential to consider grinding capacity before concluding. Meat grinders with higher capacity would also help you save time.
Motor
While picking up an electric model, it's important to consider the motor power. The higher the watts, the mightier the motor, and the mightier the motor, the more products you will be able to grind.
The bigger units typically come with a bigger motor power rating since they require more power to have a bigger amount of bones or meats processed. The majority of the power ratings come ranging from 350 power watts to 700 power watts.
If you are planning to process smaller amounts of stuff, then it is recommended to go with smaller motor power ratings. Contrariwise, if you wish to process a lot of bones grinding that too in higher quantities, then make sure to look for the models with higher watts.
Weight
It is recommended to pick up lightweight models because not only they are easier to move from one spot to another but also easier to handle.
Then again, the majority of the lightest meat grinders might not offer durability and might even appear flimsy. Hence, make sure to look for one that is not only lightweight but also long-lasting.
Durability and Performance
The meat grinder must also be heavy-duty and built from high-quality stainless steel especially for its grinding head and metal gears. 
Not just that, you also need to ensure durable blades with a higher sharpness level. The sharper the blades will be, the better the results you will get.
Better durability of the grinder will also help prevent bacteria development as well as withstand corrosion and rust making sanitation and cleaning a breeze.
Besides the construction, the auger is also another good indicator if it is capable of grinding bones.  The blades should also be considered as the bones will go through them. 
So if your meat grinder is only able to grind about 2 lbs. of meat per minute, don't push your luck as it cannot handle the tension and will surely break.  But if it can grind about 8 lbs. or more of meat per minute, then it should be able to grind soft and small bones with no problem.
Safety
When using a unit, safety should be given the utmost importance. If your meat grinder includes safety features, it will benefit you big time.
So, make sure that you check if the model has safety features such as reverse function or on and off button, or suction base.
Accessories
You will find a lot of meat grinders that incorporate different accessories. Some of the popular ones include attachments that can assist through the input processes, extra trays and pans, and foot pedal control.
FREQUENTLY ASKED QUESTION
What meat grinders are best for grinding bones?
Meat grinders with high-powered motors from 0.75 to 1.5 horsepower and around 500-2000 watt of peak power will be able to grind bones. 
What is the best meat grinder for grinding for dog food?
All the meat grinders we have reviewed are capable of grinding bones for dog food.  Chicken bones are not as strong or dense as pork or beef bones. 
The LEM Big Bite, the Kitchener, and the Weston on our list are all more than capable to grind meat and bone for dog food. 
You can never go wrong with any of these products as they are proven to crush soft and small bones without any issue at all. 
How do you grind beef bones?
Beef bone is one of the toughest bones because of its size and density.  No home or commercial meat grinder is designed to grind beef bones.  Only industrial meat grinders usually the size of a small car, are the machines that are capable of crushing or grinding them. 
Can you put a bone in a meat grinder?
Yes.  Most meat grinders that are capable of grinding small and soft bones have a larger neck to accommodate meat with bones such as chicken.  The LEM Big Bite has an extra gap in its auger to accommodate a larger cut of meat. 
The Weston Butcher Series can accommodate a good chunk of chicken thighs with no problem as well.  The size of the hole where you put the meat is an indication if it can cope with bones or not. 
Watch A Video Review Of Meat Grinder For Bones!
Final Words
Now that we have reviewed the features of the best meat grinders for bones, you have a clearer understanding based on the pros and cons of each product.  You can now choose which features are important to you. 
While price is important, it should not be only the basis when you choose the meat grinder suitable for your needs.  It will not make sense to buy the Weston Butcher Series if you're only going to use it once or twice a month. 
You might be better off with the cheaper but also capable STX Turboforce II. 
Whatever you decide, it can only make your life easier choosing anyone from these meat grinders.  It's a good investment to make especially if you will use it to make healthy food for you and your furry friends.