In the modern kitchen, Kitchenaid Meat Grinder Attachment is inevitable. If you have a grinder attachment for kitchen aid, you don't have to buy several kitchen appliances. This is a combo of so many appliances! Obviously you can grind meat with it, at the same time you can use it as a pasta maker, baby food grinder. It can also make bread crumbs and many more. So we are here with Kitchenaid meat grinder attachment review.
 Don't forget to read our Best Meat Grinder Reviews 2020
Features Of Kitchenaid Meat Grinder Attachment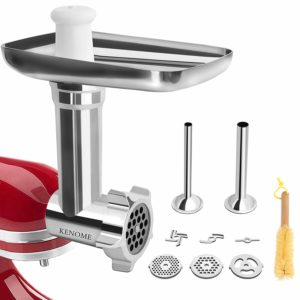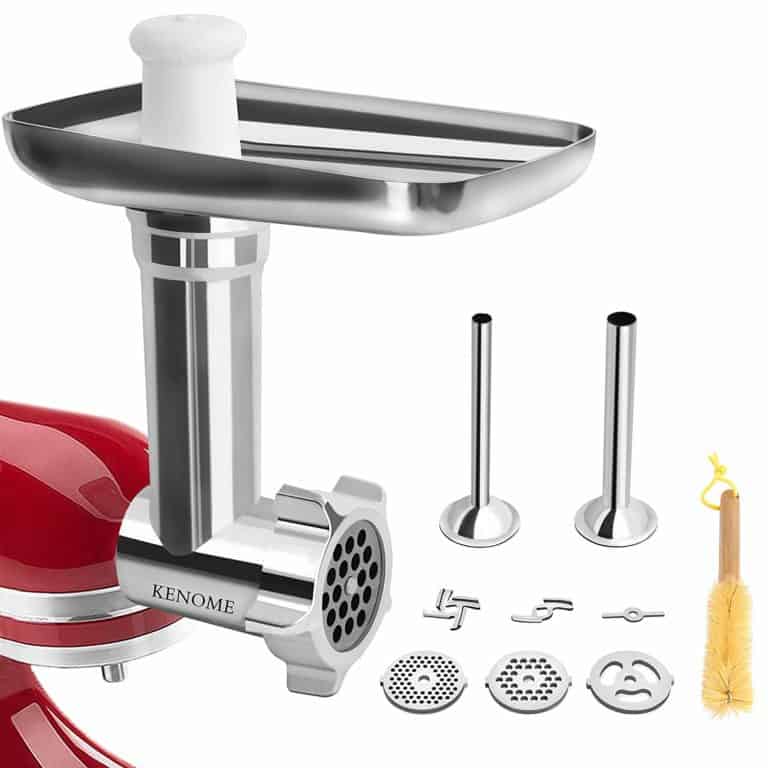 This food grinder attachments have a complete metal design that fits in all KitchenAid stand mixers. It's far better than the plastic food grinder attachments out there with simple usage procedures. All you have to do is to attach it to the power hub of any KitchenAid stand mixer and you're good to go.
Be if beef or chicken, it helps you to process all types of meats smoothly. This metal grinder attachment is absolutely top of the line if you want to produce ground meat with great texture. It also provides superior performance in terms of speed, cleaner grind, and durability.
These metal attachments are very simple and easy to assemble. At first, insert the grind worm into the grinder body and install the blade sharp side upward. Then place the grinding plate over the blade and turn the locking ring until it's tightened up properly. Lastly, place the tray into the grinder body and attach it to the stand mixer.
Two size sausage stuffer tubes help you to make sausage just the way you like it such as- boudin sausage, Italian sausage, summer sausage and many more! To ensure health safety and freshness, these metal food grinder attachments are made of food-grade material. So, you'll be able to grind fresh meat for sausages and burgers without any hesitation.
All the attachments are very easy to clean and use. Though the meat grinder isn't dishwasher safe. However, all the metal parts are detachable, so you can quickly clean it with soap and warm water. You'll also get a cleaning brush to make your cleaning process easier and more convenient.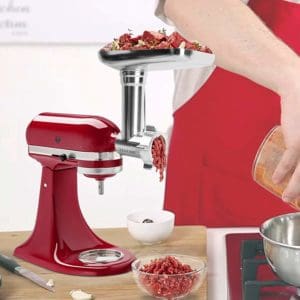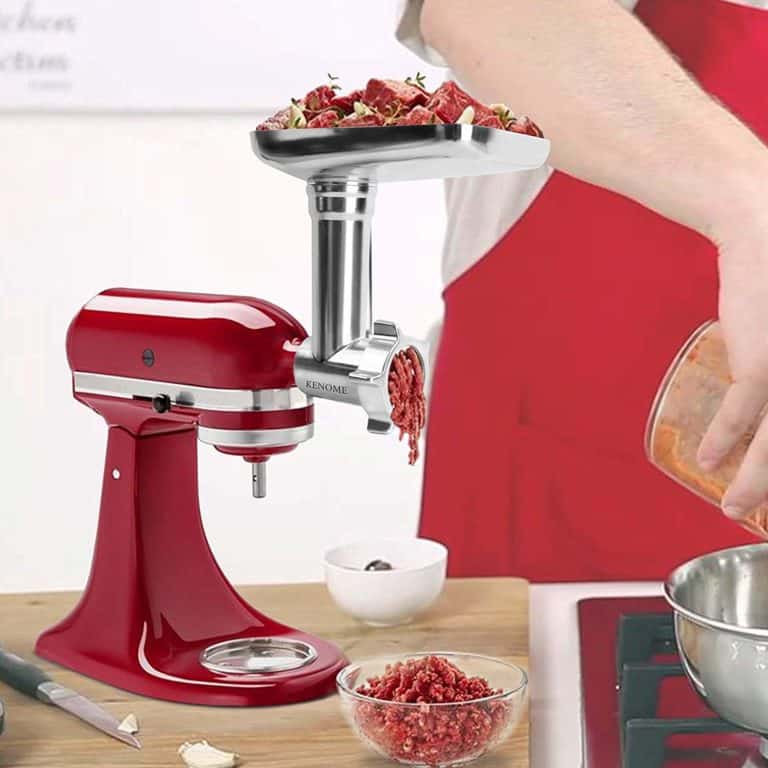 Pros
Superior that plastic model
Easy to use
Durable
Attachments are made of food-grade material
Easy to clean
Cons
What can I do with the Kitchenaid Meat Grinder Attachment?
Getting a grinder just for the sake of grinding meat doesn't sound very economic. You're not going to grind meat daily so if the grinder is solely designed for grinding meat then you should give a pass on it.
Meat grinders have a wide range of usages and they'll make your life a lot easier and simpler. There is an endless list of things that you can do with a good meat grinder. So we do Kitchenaid meat grinder attachment review. However, these are some of the common things that you can use the meat grinder for.
Read More Review: Cuisinart Electric Meat Grinder Review
Nut Butter
Kitchenaid meat grinder attachment review guide showing you the various uses of this attachment. You can make delicious mouth-watering nut butter with the meat grinder. All you need to do is to place the nuts and butter together on the grinder and grind them. You'll get thick and creamy nut butter in minutes.
Fruit Sorbet
Who doesn't love a fruit sorbet on a hot summer day? You can prepare healthy and flavorful fruit sorbets on your meat grinder. Just mix your favorite fruits on the grinder and let the mix cool in the freezer.
Ground Cheese
You don't need to spend all those money on ground cheese if you have a meat grinder on your hand. You can easily put parmesan on your foods by grinding hard cheese.
Baby Foods
If you're tired of grinding baby food on the blender then the meat grinder is to your rescue. With a good meat grinder, you can grind all sorts of baby food to perfection just within seconds.
Bread Crumbs
There's no need to go to the stores for getting bread crumbs. Just put the slices of bread down the feeding chute and voila! Your bread crumb is ready.
Final Words Of Kitchenaid Meat Grinder Attachment Review
This metal grinder attachment is a perfect gadget of a modern kitchen. By using Kitchenaid meat grinder attachment You can save your time and money. This is a multitasking gadget. It gives a twist to your everyday food. Do not forget to keep it clean to use it for a long time.
Related: The Best Meat Grinders For Bones